Team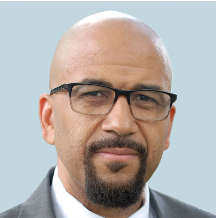 Andre Kimo Stone Guess
Senior Associate, New York
Andre Kimo Stone Guess is an internationally respected leader who has over 25 years of executive experience. He previously served as CEO of the August Wilson Center for African American Culture in Pittsburgh and was VP and Producer for Jazz at Lincoln Center in New York.
Andre's consulting clients include: The Pew Charitable Trusts, William Penn Foundation, New Orleans Jazz Orchestra, The Clef Club in Philadelphia, Signature Theatre, MCC Theater, Andrew W. Mellon Foundation, New York City Opera, The Esplanade in Singapore, Orchestra of St. Luke's, the Aspen Institute, Manhattan Theater Club, Jazz at Lincoln Center, Jazz Workshop, Inc. (Estate of Charles Mingus), Pittsburgh Jazz Orchestra, Soulful Symphony, Wynton Marsalis Enterprises, Inc. and the Brooklyn Music School. Music management clients include: Christian McBride, Darin Atwater, Sean Jones, Aaron Diehl, Warren Wolf and Nicholas Payton.
Andre received a B.S. in Economics with a minor in Actuarial Mathematics from the University of Louisville. He has finished coursework and completed the comprehensive examinations for a PhD in Urban and Public Affairs with a concentration in Policy Analysis and Evaluation, also at the University of Louisville.
Andre has served as producer for several recording projects, including one that won a Grammy. He is also a writer and cultural critic with works published by USA Today, The Courier-Journal, The Root, The Grio and ESPN's The Undefeated.