You have to try hard to ignore the many articles, social-media threads, podcasts, and late-night TV skits discussing our communal desire for a return of the performing arts. These pieces express our excitement and anticipation about when each organization will perform again as well as pose critical questions such as, "Who is willing to attend?" and "How large will the audiences be?" My AEA colleagues and I have been thinking through these questions since the pandemic's onset in spring 2020, which is why I gave them little thought earlier this month as I packed my bags and headed to the airport en route to Spoleto Festival USA in Charleston, SC.
Spoleto Festival USA is a client of AEA Consulting; we are facilitating the organization's strategic plan. When long-time Festival General Director Nigel Redden announced his retirement, we agreed with the Board of Directors to pause the plan until his successor was named and in place. My trip to Charleston was exploratory, with the express goal of learning more about the community and experiencing the Festival during part of its 17-day run.
My preoccupations prior to arriving fell mostly into two camps. The first concerned COVID safety protocols and how a city nearly 800 miles from my home in New York would compare to my daily experience over the last year. The second was far more personal and a reflection on how I thought I would feel when those first musical notes emanated from the stage, and my pandemic-enforced event celibacy would finally be over.
At risk of causing agita to those who have yet to remove their masks indoors or out, I'll say this on the first one: South Carolina is open for business! The people are respectful though and at no point did I feel unsafe or unwilling to enter a venue, restaurant, or shop. The Festival itself continued to maintain social distancing and mask guidelines, which made each performance both carefree and comfortable (ahh..the legroom!). What was originally a point of concern quickly turned to a mutual understanding with the community, and by the time I left, COVID safety became an afterthought.
Thoughts on the second question about my emotional response to live events developed over the course of my stay. I had tickets to four performances in three days – I wasn't just dipping my toes back in the performing arts; I was going for a swim. The first was an evening outdoor set from the veteran all-star jazz group, The Cookers. That was followed by an afternoon chamber music presentation (a Spoleto staple) including a Beethoven septet and a world-premiere composition for piano and cello by Osvaldo Golijov. That evening was a curated set of five ballet pas de deux, titled Ballet Under the Stars, and performed by renowned dancers from the New York City Ballet and American Ballet Theatre. My last evening included a performance of the long-time West End ghost story play, The Woman in Black.
I was not the only one in these waters. Even through masks, I could tell there were a number of repeat attendees at each performance. These were either dedicated festival-goers or other people like me looking to cram as much culture into as short a time as possible. Either way, I could tell that those around me missed the arts as much as I did. They said as much when walking to their seats, hushed and held their breath as the lights went down, and cheered loudly and fervently as soon as the performance was over. Spoleto audiences were ecstatic about their Festival's return, and they didn't miss a beat after having lost the entire 2020 season.
Only after my double-bill of chamber music and ballet did I ultimately feel that same ecstasy. Spoleto's long-time Director of Chamber Music, Geoff Nuttall, opens each performance with context on the piece, its composer, and the musicians about to play. His opening remarks are filled with humor and energy, which not only provide an air of friendliness to the audience but clearly have an impact on the artists he's working with. The nine world-class musicians performing that afternoon filled the stage with music, laughter, and camaraderie, playing with ease and with smiles on their faces. They were having fun! It was a poignant reminder that many of these performances mark an artist's return to the stage as much as an audience's return to the house. I didn't speak with the performers, but I imagine they too had been wondering what it would feel like before getting back out there. If their joyful presence was even a tiny indication, they were feeling great.
This same note was driven home later that evening during Ballet Under the Stars. Before the show began, all five dancers introduced themselves at center stage. In turn, they identified where they were from, what companies they performed with, and what being at the Festival meant to them. Unlike the chamber music ensemble, which has several return artists year-after-year, these dancers were new to Spoleto. They didn't necessarily know what to expect in Charleston, but they discussed how embraced they felt by the city and how important this opportunity was. Like so many of their peers, their Spoleto engagement marked a return of live audiences and a way of life that was stripped from them during the pandemic. They too were smiling and breathing sighs of relief of having made it through these past 18 months.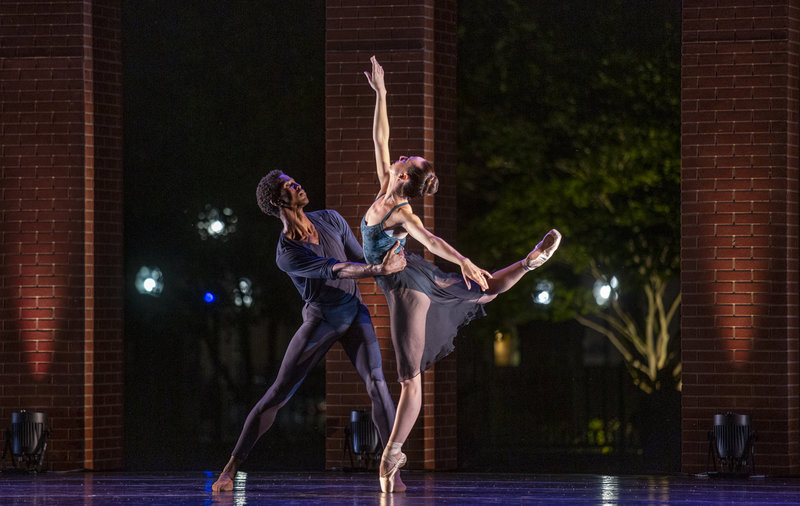 The first two pas de deux were works by George Balanchine and Lar Lubovich and accompanied by a pianist and recorded track respectively. The third piece, however, was an excerpt from Christopher Wheeldon's Five Movements, Three Repeats, and set to Dinah Washington's 1960 song, This Bitter Earth. Performed by American Ballet Theatre principal dancers Isabella Boylston and Calvin Royal III, the duet was graceful and intimate. But more than that, it provided me with the moment I had been waiting for the entire trip. How was this whole experience going to make me feel? Well, Dinah Washington said it best:
I'm sure someone may answer my call.
And this bitter earth,
May not,
Oh, be so bitter after all.
Eric Gershman is a Senior Consultant at AEA Consulting.