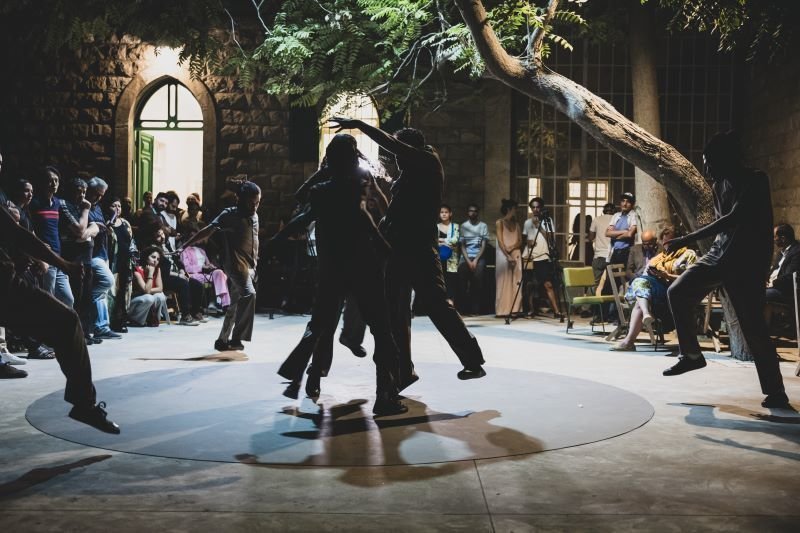 The co-founders of Studio 8, a contemporary dance company in Amman, Jordan, do not have time to fixate over what they are up against. They are too busy creating a nimble, innovative organization that is the first of its kind in the country, and indeed their work may be a model for other organizations looking to advance arts in changing contexts.
I am grateful to have experienced this work first-hand as an Artist-in-Residence at their biannual festival, the International Dance Encounter Amman (IDEA) this past September.
Studio 8 and the origins of IDEA
Studio 8 began in 2014 as a small collaboration between two brothers, Abd Al Hadi and Anas Abunaleh – self-taught break-dancers from Jordan's first street dance generation, and a visual artist and arts administrator from China, Xiomen Ren. Many of today's central figures in Amman's dance scene have similar origins in breakdancing, given its popularity in Jordan in the late 90s. Abd Al Hadi, who began dancing in a refugee camp in Amman, grew his contemporary dance practice as a recipient of the prestigious Choreomundus scholarship, the first Erasmus Mundus Master's program focusing on dance as Intangible Cultural Heritage. The three founders of Studio 8 experimented with site-specific performances and dance films, aspiring to share their works abroad. Simultaneously, they began developing incubation programs, mentorship opportunities, and financial support for emerging dancers. The company's mission quickly crystallized: create an ecosystem for local dancers and put Jordan on the map for contemporary dance.
At the time, there was no official non-profit category for dance, and it took 18 months of advocacy to register Studio 8 as Jordan's first independent dance company. Today, Studio 8 has its own home in Jabal Al-Weibdeh, a naturally occurring cultural district in the heart of Amman. Their staff is lean: the three founders work full-time alongside one part-time financial manager. They operate with an annual budget of about US$114,000 and do not receive any funding from the Jordanian government – their business model relies entirely on foreign support, primarily from European funders such as the Drosos Foundation, the Prince Claus Fund, and the Goethe-Institut.
For Studio 8, research, capacity building, and international exchanges are crucial pieces of their creative output, equally important as their performances. To guide their mission, the company leads research and mapping projects of the dance ecosystem to expand on capacity building initiatives for performing artists across the country. International Dance Encounter Amman (IDEA) is a project that centers international exchange.
This year marked the third edition of IDEA, a week-long event that prioritizes local engagement and education, as well as exchange opportunities for professionals, artists, students, and researchers from around the world. The Festival included more than 50 artists presenting work from 25 countries, among them eight pieces from the Arab world, including artists from Jordan, Syria, Egypt, Palestine, Morocco, and Tunisia. While the Festival is locally driven and focuses on developing dancers from Arab contexts, it also served as a meaningful meeting point between the Arab world and the West, as well as other regions. IDEA included the premiere of three works borne of the Halaqat Performing Arts project that aimed to explore cultural links between artists in Europe and the Arab world. Many of the collaborations were not only opportunities for cultural exchange, but also interdisciplinary crossovers. Dancers collaborated with musicians, visual artists, and even a seamstress who sewed materials onto a performer while a mic and mixer attached to the machine created the accompanying soundscape.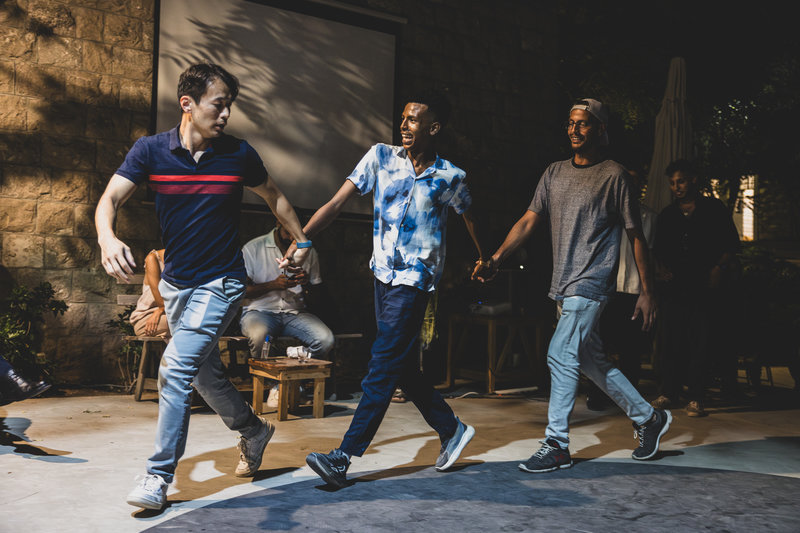 The Festival's reception from the local community has come a long way. During the first edition in 2019, the media attacked IDEA for being immoral, accusing it of encouraging debauchery; some even falsely used internet photos of clubbing scenes that they claimed were taken at the Festival. While IDEA is now more established and respected, challenges still remain. Studio 8 attributes these to the following cross-cutting issues:
Weak national cultural policy. There is currently no overarching government strategy for the arts and extremely limited funding;
Limitations in the educational system. Art was removed from the curriculum of state schools in the 1970s, and dance is almost entirely absent from school curriculum;
A lack of safe public gathering spaces for carrying out cultural activities;A lack of a cohesive national artistic identity; and
Limited public awareness and negative perceptions of dance as an artform. Dance (outside of folk dances such as dabke) is still widely considered taboo, inappropriate, or unacceptable. Once Studio 8 replaced the word "dance" with "performing arts" in their marketing, they saw a significant increase in engagement.
Throughout my month-long residency, I choreographed a new dance work, hosted an open dance jam for local and visiting artists, served as production and administrative support, and moderated a roundtable discussion with local and international artists. The roundtables were intimate, open spaces for artists, directors, curators, and cultural organizers to discuss the key challenges and opportunities they faced in their specific geographies. Despite the artists coming from significantly different contexts – the panel I moderated included artists from Palestine, Burkina Faso, and Singapore – clear throughlines arose.
The following captures some of the themes that emerged not only within the Festival's formal programming, but also through the vibrant, impassioned conversations we had nightly at the studio as all the artists huddled around big plates of food after long days of rehearsals, sharing our world views with the frantic gesticulations and gestures common to dancers.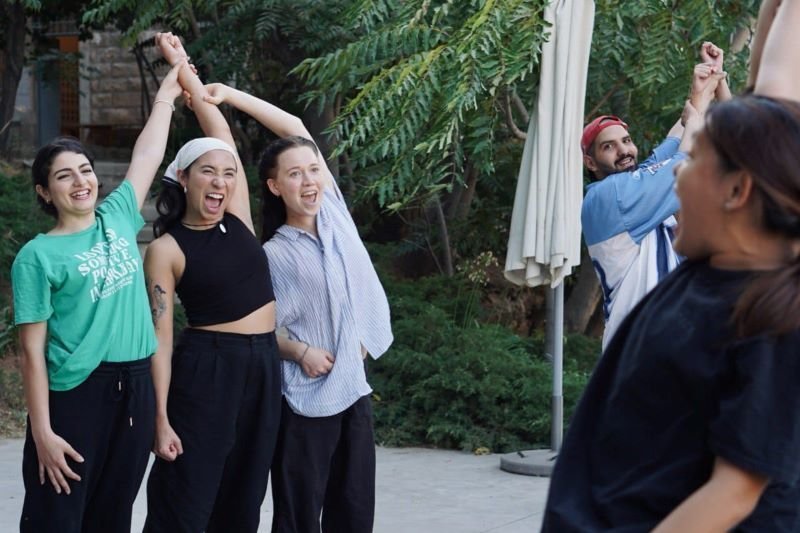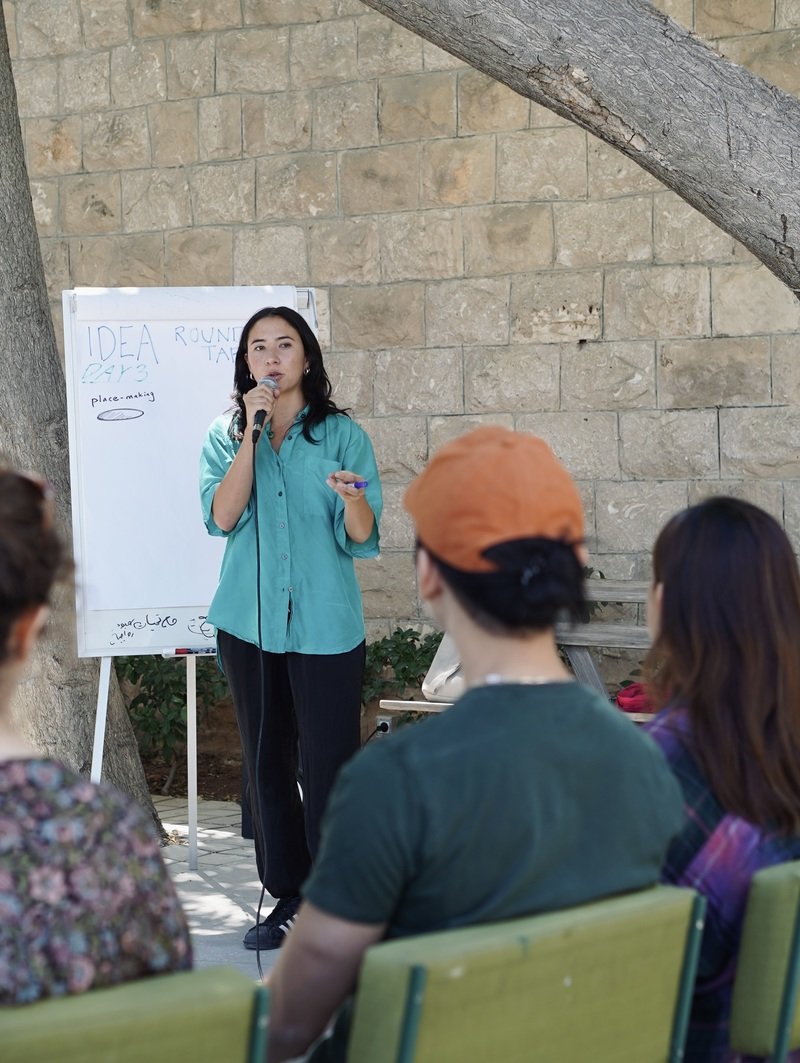 Capacity building for the development of dance economies
Despite the progress that dance advocates have made in the past decade, the dance sector in Jordan remains underdeveloped and underestimated as a creative economy. Covid-19 exacerbated existing intersecting issues in the dance ecosystem and beyond, including gender disparity, youth development, and artist "brain drain" from the county. Over 50% of Jordan's population is under 25 years old and consistently high youth unemployment levels not only impact social cohesion but the ability for young people to consider entering the creative sector. Studio 8's directors noted a disproportionate effect of Covid-19 on Arab women artists and thus ensured that the Festival emphasized Arab women artists.
The pandemic also brought the departure of many of the founders of Amman's street dance scene, some moving to Europe or the U.S. for new artistic opportunities and others giving up dance altogether in order to pursue more stable professions. In such a small dance ecosystem, the losses were significant. For Studio 8, these losses only reinforced their focus on capacity building, research, and investment in youth as emerging artists. They used IDEA as an opportunity to gather international artists to share solutions to similar problems. Visiting artists from the region echoed the need for stronger economic infrastructure in their respective countries, such as increased funding for the arts, more affordable housing, and social safety net programs to allow for risk-taking – policies that would make it more feasible to pursue a career in dance. They noted the importance of demonstrating the potential of dance as a creative economy not only to the local governments and aid organizations, but also to embassies with public diplomacy budgets.
IDEA is a case study in how dance can stimulate economic activity. The Festival's entire budget was approximately US$78,000. Roughly half of the budget was spent on airfare, the other 50% went directly to Amman's local economy. This included rentals at local venues, direct payments to young creatives that served as tour guides, airport pick-ups, costume and prop supplies, graphic design, and translation services. The Studio 8 dancers themselves were paid for rehearsals and performances, while also working the lights, tech booth, or as ushers to earn extra cash. There was also an additional ~US$15,000 spent prior to the Festival to pay local dancers for rehearsals and the development process of their piece, marketing, and other necessary preparation. These payments and supplemental job opportunities make it possible for dancers to stay in Jordan.
Studio 8 sees strategic capacity building as a means of developing creative economies and dance employment opportunities across Amman. Their efforts include:
Developing "how-to" guides and templates for grant applications, standard contracts, artist statements, etc.;
Improving dancers' commercial and business skills, including social media marketing;
Providing in-person and virtual practical "labs" for young people who are currently creating micro content, thereby offering them the possibility to develop their skills without going to university;
Upskilling in lighting, sounds, scenography, and dramaturgy so that local performance-makers do not have to rely on specialists from outside of Jordan;
Establishing mentorships; and
Fostering international knowledge exchange rather than only focusing on accessing international funding resources.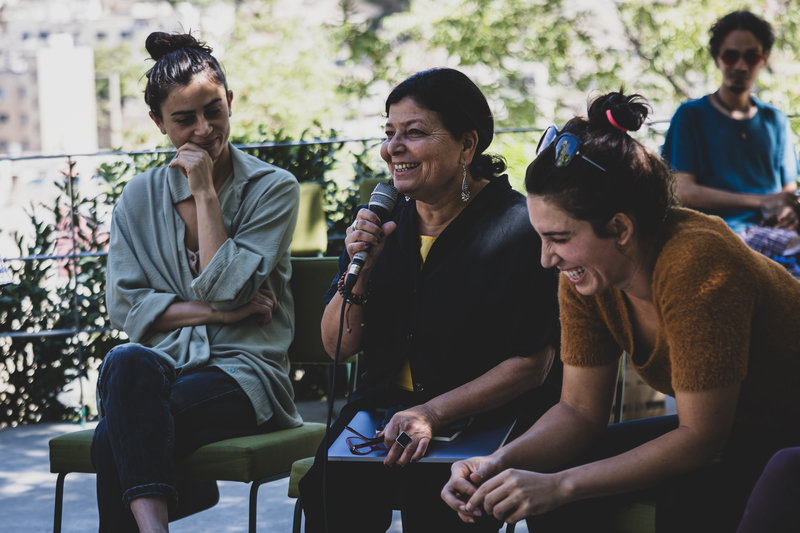 Calls for more trust-based partnership models
While the Festival was centered around Arab artists and hosted by a Jordan-based dance company, the entire operation was supported exclusively by European funders. Some artists expressed frustrations with the fact that the region's artists are financially dependent on Europe, characterizing tensions that typically arise in any funder-grantee relationship but that are further aggravated by power dynamics between the West and the Arab world. Artists and cultural leaders described the burden of restrictive funding conditions, time-consuming applications, rigorous reporting and evaluation, and a lack of understanding of the artist's or cultural worker's context. Many of the roundtable participants had not previously heard of trust-based philanthropic models, which work to de-center funder preferences to foster more responsive, adaptive authentic partnerships.
Conversations regarding partnerships expanded beyond funding to culture and values. One not-for-profit leader described a moment in which their Western funder was attempting to set up a management structure to contain the "chaos" of the company's operations. An Arab artist respectfully suggested alternatives to the characterization, correcting the language to "organic" or "communal" which incited a conversation about the various shapes of organizational structures that exist across different cultural contexts. Other artists mentioned moments of tokenization, remarking that political conflict and war sometimes meant more opportunities for artists from the region to perform in the West, especially if artists presented work focusing on their community's trauma. Many artists expressed resentment with monolithic representations of the region by funders and curators who seemed more likely to include Arab artists when their countries were in crisis. While dance leaders with 10+ years of experience emphasized picking opportunities and funders that aligned with their values, younger artists remarked that it was much more difficult at the beginning of a career. It was clear that while Arab artists are receiving significant funding from Western organizations, many artists feel misunderstood and rarely heard in the funder-grantee dynamic.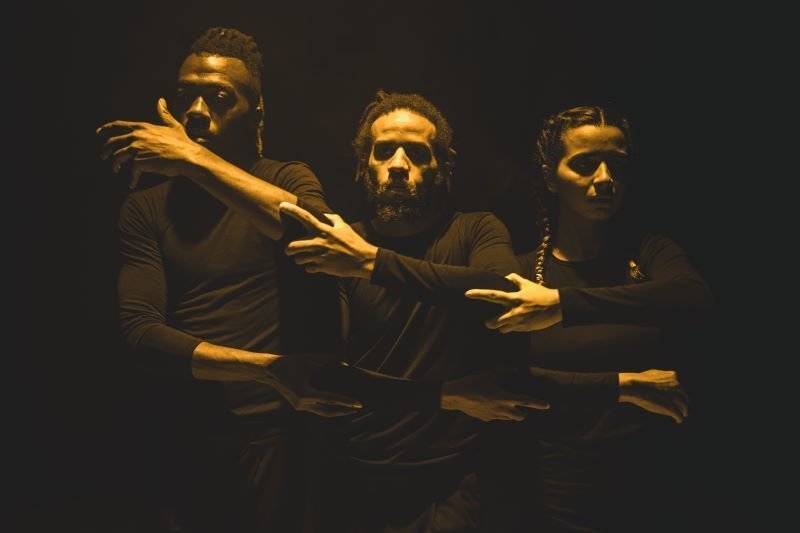 Lessons in adaptability
The dancers and dance companies at the Festival represented a broad range of geographies, from Singapore to Burkina Faso. They not only faced similar obstacles but also had clear common opportunities. Unlike larger organizations that tend to deal with large bureaucratic processes, these dance companies had the benefit of nimbleness, innovative spirits, and a deep connection to their surrounding communities. Community engagement is central to their work, rather than an afterthought. As one artist stated, "we know our audience by name," emphasizing the intimate nature of their relationship with audiences. A dance group in Burkina Faso successfully advocated for street lamps so they could practice in the evenings, and the local community then began to associate the dancers with literally and metaphorically bringing light back to the streets.
Artists were enthusiastic about sharing their methods to deliver earned income. Khashabi Theatre, a Palestinian venue in Haifa, was struggling financially, so they built a bar inside their theater and shifted to a cabaret model for shows to encourage more food and beverage revenue. Decadance in Singapore created intergenerational dance educational programs for everyone from toddlers to senior citizens to simultaneously fund their productions and develop new audiences – the company hosts an intergenerational show every year.
All artists mentioned unconventional performance locations as a solution to high rental costs, a lack of theaters, and issues with public space. The Festival itself was a case study in site-specific adaptations. Pieces were developed and shown in gardens, staircases, apartment roofs, and rented clubs. Others described using mobile performances as a way of engaging artists outside of city centers or utilizing virtual performance when passport restrictions kept artists from being able to showcase work.
IDEA Festival reinforced my own belief that local, artist-led initiatives are the heart of our cultural ecosystems. Funders should look to smaller-scale organizations such as Studio 8 as opportunities for massive, hyper-local impact, and large-scale cultural organizations can learn from their innovative solutions to universal problems. State-led cultural exchange programs could model interdisciplinary collaboration as a means of cultural diplomacy. The artists have the answers – and I am grateful I had the opportunity to listen.