AEA Consulting Releases the 2021 Cultural Infrastructure Index
July 8, 2022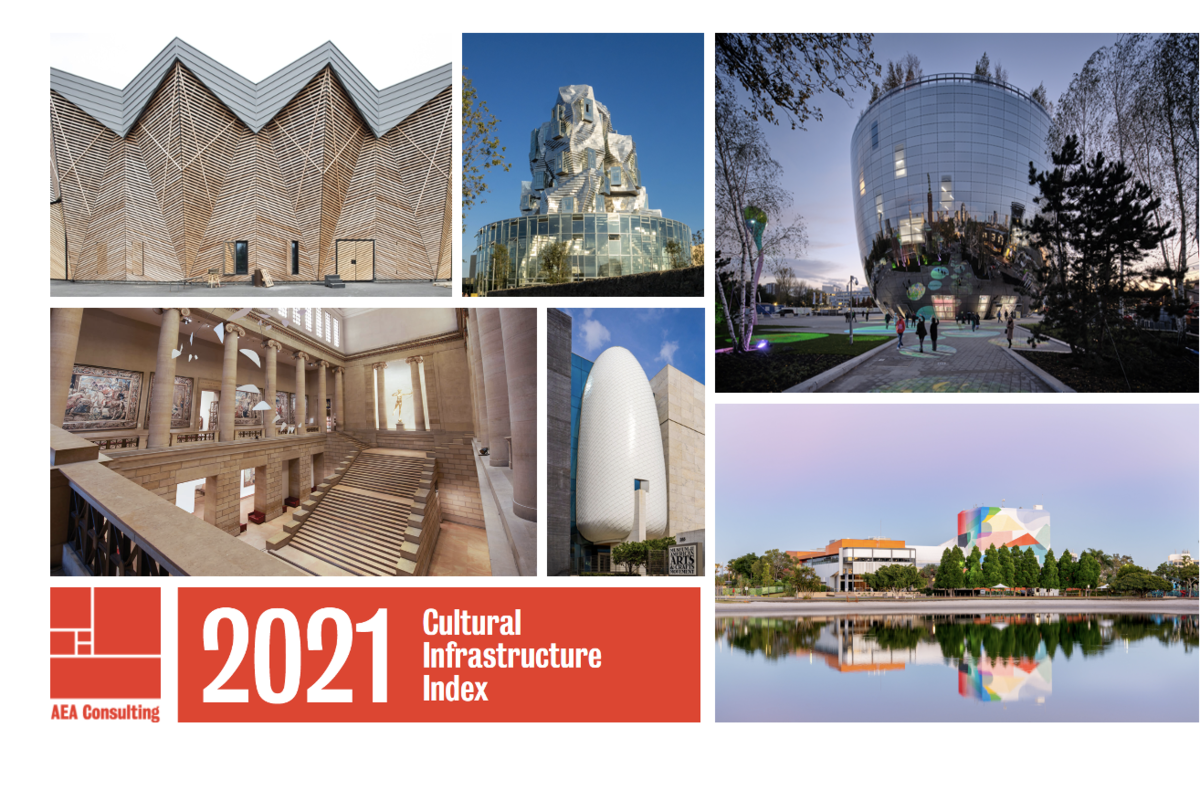 AEA Consulting is pleased to announce the release of the 2021 Cultural Infrastructure Index. Now in its sixth edition, the Index seeks to measure investment in capital projects in the cultural sector globally, identifying projects with a budget of US$10 million or more that were publicly announced or completed within a calendar year. "Cultural infrastructure" comprises museums/galleries, performing arts centers, multifunction arts venues, and cultural hubs or districts, and projects tracked include new buildings, renovations, expansions, and adaptive reuse.
AEA Consulting's analysis finds that $11.2 billion worth of new physical assets were completed globally in 2021 across 211 projects. A further $6.5 billion of investment in 174 projects were announced. This was a record year for the volume of both completed and announced projects (and by some margin!), jumping up 103% and 34% from the previous year, respectively. Project budgets tell a different story, where completed projects bounced back from a dip in 2020 by $5.5 billion ($5.7 billion to $11.2 billion) and were the highest annual value of completed projects since AEA began tracking in 2016. Announced capital investment did not keep pace, however, falling by $1.7 billion ($8.2 billion to $6.5 billion) as median project values dropped 24% from $40.0 million to $30.5 million.
In this edition of the Index, adaptive reuse projects have been introduced as a new category and will be tracked annually. These types of projects have become increasingly popular in recent years, representing a growing segment of total investment as project leaders seek to minimize waste while maximizing social value and relevance to local communities. This year, 22 adaptive reuse projects were completed and 18 were announced with a combined value of $1.6 billion.
This year's Index highlights the reimagined use of art storage areas, and the innovative ways museums are creating to maximize public access to and the public value of their collections while still ensuring objects are stored in a secure and optimized environment. In the case study, Access All Areas: Art Storage Reimagined, AEA's team takes you on a tour around the world of the art storage practices that allow visitors to explore art storage facilities on self- and guided tours to gain a better understanding of the ways in which museums preserve and manage their collections.
Explore AEA's findings in the 2021 Cultural Infrastructure Index.