AEA Consulting Releases the 2022 Cultural Infrastructure Index
July 27, 2023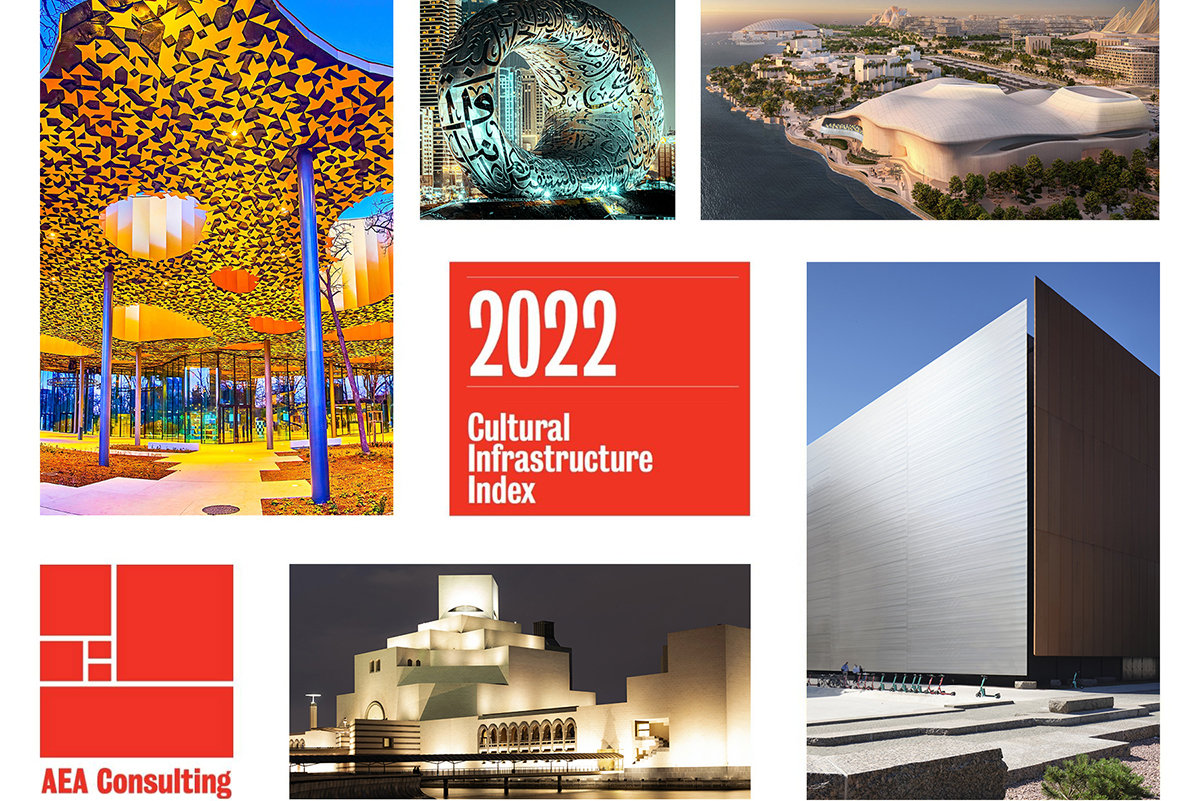 AEA Consulting is pleased to announce the release of the 2022 Cultural Infrastructure Index. Established in 2016, the Index seeks to measure investment in capital projects in the cultural sector globally, identifying projects with a budget of US$10 million or more that were publicly announced or completed within a calendar year.
An analysis of 2022 data shows that the volume of global investments in cultural projects has returned to pre-pandemic levels. In total, the 185 projects completed in 2022 represented $7.8 billion in investment and the estimated cost for the 225 newly announced projects is valued at $7.3 billion. With the Index now in its seventh edition, a long-term view indicates that this growth will likely continue, even following a post-Covid rebound in 2021 which saw a record number of completed and announced projects.
The Index provides information on the number, type, location, and budgets of cultural infrastructure projects announced and completed every year, tracking trends across project types as well as uses, geographical spread and year-on-year changes.
This year's Index also provides a closer look at the rise of immersive and digital cultural experiences, examining the specific needs and opportunities of purpose-built venues. Recent projects include Meow Wolf's interactive supermarket in Las Vegas, Culturespaces' Fabrique des Lumières in Amsterdam, teamLab Phenomena Abu Dhabi, and Lightroom and ABBA Arena, both in London.
Highlights from the 2022 Cultural Infrastructure Index include:
225 projects were announced in 2022: the highest number recorded since AEA began tracking in 2016 and an almost 30% increase from 2021's record of 174 projects. The value of these projects also increased by 13% from $6.5 billion in 2021to $7.3 billion in 2022.
185 projects were completed in 2022: while this is a dip from 2021, this figure is still the second highest since 2016 and represents $7.8 billion in investment.
Looking across seven years of data, on average, the number of completed projects has increased by 11% and the number of announced projects has increased by 9% each year since 2016. While the volume of projects has increased, the value of investment remains consistent with 2016, representing a reduction in real terms.
Museums and galleries continue to dominate investments for the seventh consecutive year but for the first time, multifunction arts venues were a more popular construction than performing arts centers signaling future growth.
The development of cultural districts also shows signs of growth – while still a minority of projects by volume and value, the number of announced projects increased by 47% to 27.
While the majority of investment can be traced to a handful of countries – Australia, China, the UK and the US account for $10 billion of total investment (66% total) – there is notable growth visible elsewhere, particularly in India, where investment recorded more than tripled from $51 million to $235 million.
Explore more of AEA's findings in the 2022 Cultural Infrastructure Index.