AEA welcomes two Summer Analysts for 2017
May 8, 2017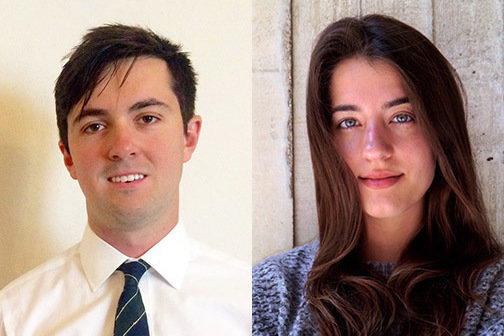 AEA is pleased to welcome two Summer Analysts joining us in Beacon for 2017.
Ava Violich recently completed her junior year at Harvard College, where she is majoring in History and Literature, and serves as Vice President of The Harvard Lampoon. Last year, Ava was selected as a Harvard Cambridge Fellow, which allowed her to complete independent research in Cambridge (the other one, in the UK) on classical imagery in the cartoons of the American satirical magazine Puck. Ava has also worked at The Harvard College Observatory; as an Education Intern at the Isabella Stewart Gardner Museum; and served as a Student Leader in a Harvard exchange program in Oita, Japan, where she taught English writing and stop-animation for Japanese youth. Ava was a National Honor Society member at Boston Latin School, where she played first violin in the orchestra. During August, Ava will be conducting research in the archives of the Royal Borough of Kensington and Chelsea in London.
Jake F. Hiebert graduated in 2016 from the University of Texas at Austin, where he received his B.A. in Plan II Honors (an intensive liberal arts curriculum) and certificate in Creative Writing, and wrote his thesis on the Chinese independent music industry. Since 2014, Jake has written, recorded, played drums, toured, and managed his alternative rock band TOMA, and has performed at Austin's SXSW Festival and around the country. He is experienced in performing arts production and promotion, having worked at Bowery Presents in New York, Transmission Productions in Austin, and Big Yah Productions, a boutique events management outfit he founded in 2014. Jake has traveled extensively internationally, including serving as a U.S. State Department Student Ambassador to China, and speaks Mandarin, Spanish and Portuguese.