Happy Holidays from AEA Consulting!
December 21, 2021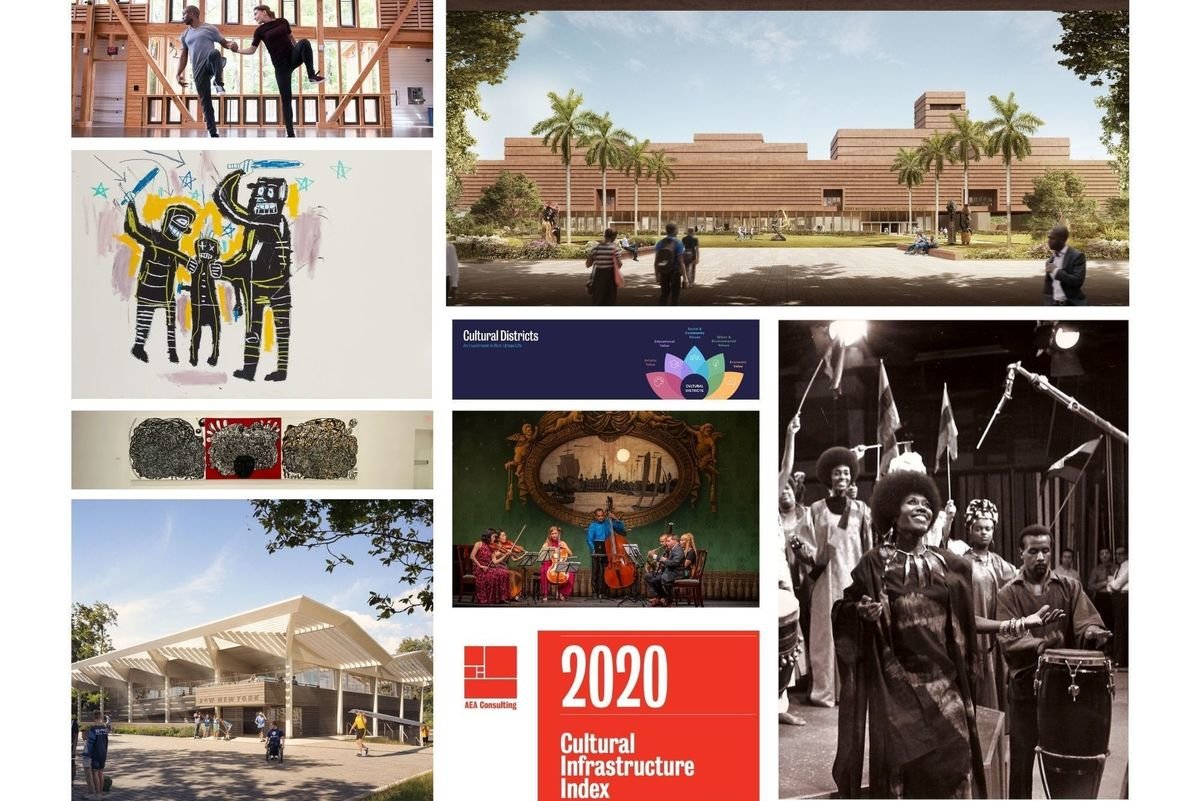 Season's Greetings!
As the world has navigated through these difficult two years, we are in awe of the resilience and determination of our clients and the sector to create stronger, innovative, and more equitable arts and cultural experiences around the globe. Thank you for allowing us to be a part of this journey, and for your trust in our team to support you on the way – this is not our work; it is yours.
2021 Highlights
We have been hard at work this past year – some of the highlights have included:
Delivering business and operating plans for the new Edo Museum of West African Art, Theodore Roosevelt Presidential Library, Row New York, Vision Factory, and National Black Theatre;
Strategic planning assignments completed or underway for Jacob's Pillow Dance Festival, The WNET Group, J. Paul Getty Trust, Walker Art Center, and The Preservation Society of Newport County (Newport Mansions);
Strategic advisory services for Tate, the Estate of Jean-Michel Basquiat's King Pleasure Exhibition, Stavros Niarchos Foundation Cultural Center, Taiwan Creative Content Agency (TAICCA), and Brooklyn Academy of Music;
A reimagined business case for the redesigned Glenbow Museum in Calgary, support of capital project development for the Vltava Philharmonic Hall in Prague, feasibility studies for the Atlanta Housing Authority and Bolivia Clasica in La Paz, Bolivia, and capital project planning with the Selldorf Architects team for London's National Gallery;
Launching the Private Investment in Culture Survey with Arts Council England for not-for-profit cultural organizations based in England to help the Council understand sector trends in cultural fundraising;
The release of the 2021 Cultural Infrastructure Index highlighting significant developments in Shenzhen, China, and defining the difference between net and gross areas of a building;
Convening Rethinking the 21st-Century Museum: Equitable Design, a series of workshops produced alongside Snyder Consultancy and Perkins&Will to reimagine the future of the museum's built environment, and the launch of the website Don't Call It a Museum to carry the conversation forward; and
Writings, interviews, and speaking engagements for our newsletter The Platform; The Art Newspaper; Museum Trustee Association; League of American Orchestras; Deloitte Art & Finance Report 2021; Creative Industries Policy and Evidence Centre / Nesta; and the UK Department for International Trade.
Global Cultural Districts Network
The Global Cultural Districts Network, an initiative of AEA Consulting, continued to grow as a unique forum for those responsible for developing, funding, and operating cultural and creative districts around the world.
This year, GCDN proudly launched The Three Bells, an ongoing podcast that examines the changing linkages between the cultural ecology and our urban environments, through interviews with cultural, civic, and thought leaders.
The network also released Cultural Districts: An Investment in Rich Urban Life, a new advocacy guide that makes a case for support of cultural districts as a necessity for building thriving places and people. It provides a core set of ideas and baseline language that cultural leaders can use to communicate with stakeholders such as policy-makers, sponsors and patrons.We were also happy to announce the appointment of Greg Lucena Scarpella as GCDN's new Director!
In 2021, GCDN welcomed the following as new members:
Making an Impact
Our clients have been working hard to make the arts, cultural, and creative sector a better place, and our team has been personally supporting a number of organizations that are working toward similar goals. We highlight them to continue to encourage their work in creating a more just and equitable sector – and society.
The Center for Artistic Activism
Rehabilitation Through the Arts
AEA grew in 2021, welcoming Mario Washington-Ihieme, Research Analyst; Geoffrey Marsh, Senior Consultant; Catalina Casas, Consultant; and Alyssa Cartwright, Office Administrator to our team. We also saw the promotions of Harry Fisher-Jones and Natalia Vartapetova to Senior Consultant, a recognition of their impact on the quality of AEA's work and lasting relationships with our clients.
We are working hard to stay connected with each other and our clients and have learned more about one another and ourselves along the way. We are hopeful that 2022 brings health and happiness to all, and we hope to see you all – in the flesh! – soon.
Happy Holidays from AEA!